News
27.12.2021
The Memorandum was signed with UK Research Organization with the purpose to support young agrarian researchers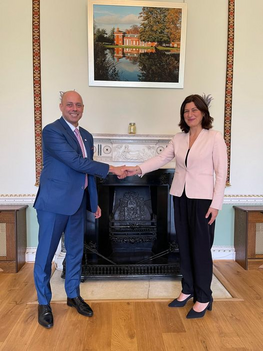 LEPL Scientific-Research center of agriculture of the Ministry of Environmental Protection and Agriculture of Georgia is launching a partnership with the leading research organization of the United Kingdom (NIAB) to increase the knowledge and excellence of young scientists. The Memorandum of Understanding was signed with the support of the Embassy of Georgia in London and was agreed upon by the Ambassador of Georgia Sophio Katsarava, the Executive Director of NIAB Mario Caccamo and the Head of the Innovative Cluster Program ,,Growing Kent and Medway'' – Nicola Hari.
"Great Britain is a strategic partner of Georgia, with which we have a long-term partnership and cooperation in various fields. This memorandum will help leading Georgian and British researchers and experts to share experiences and knowledge,"
- noted Sophio Katsarava.
The National Institute of Agricultural Botany (NIAB) is one of the fastest growing scientific organizations in the UK with a wide range of capabilities in plant genetics, agronomy and database collection. NIAB successfully cooperates with governmental, educational and industrial organizations.
"The new international cooperation will contribute to the development and improvement of the plant industry and technologies. It is important to pay special attention to the development of young researchers and their career advancement. We will be happy to host Georgian students and researchers at NIAB,"
- said NIAB Executive Director Mario Caccamo.